On SkillsBuild for Students, teachers can assign learning activities and establish due dates for their students. Learn below simple steps to assign learning activities and to keep track of your students' progress.
Assign learning activities
1. When you log into your account, type in keywords of the coursework you're looking to assign to students. In this example, we are looking for the coursework associated with the Explorations into Mindfulness badge.

2. Once you've hit enter, search results will load. Choose the course you're looking to assign. In this instance, we are choosing the Explorations into Mindfulness course and badge.
3. When you select the course, you'll be sent to its landing page. Click on the button named "Actions", and scroll through the list to the option "Create learning assignment."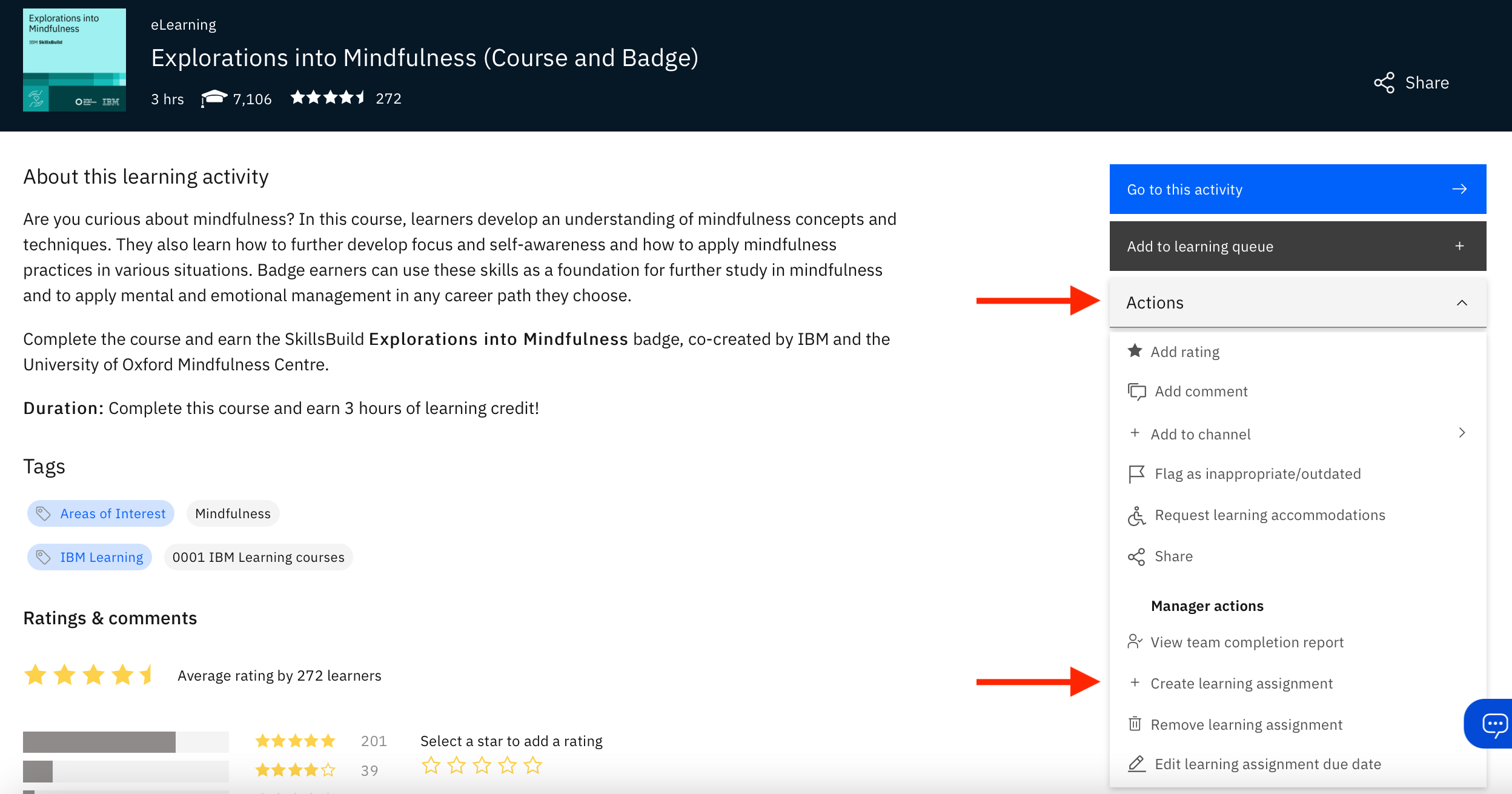 4. You'll then select each student you want to assign the course to, or you can click the top checkbox to select all of your students.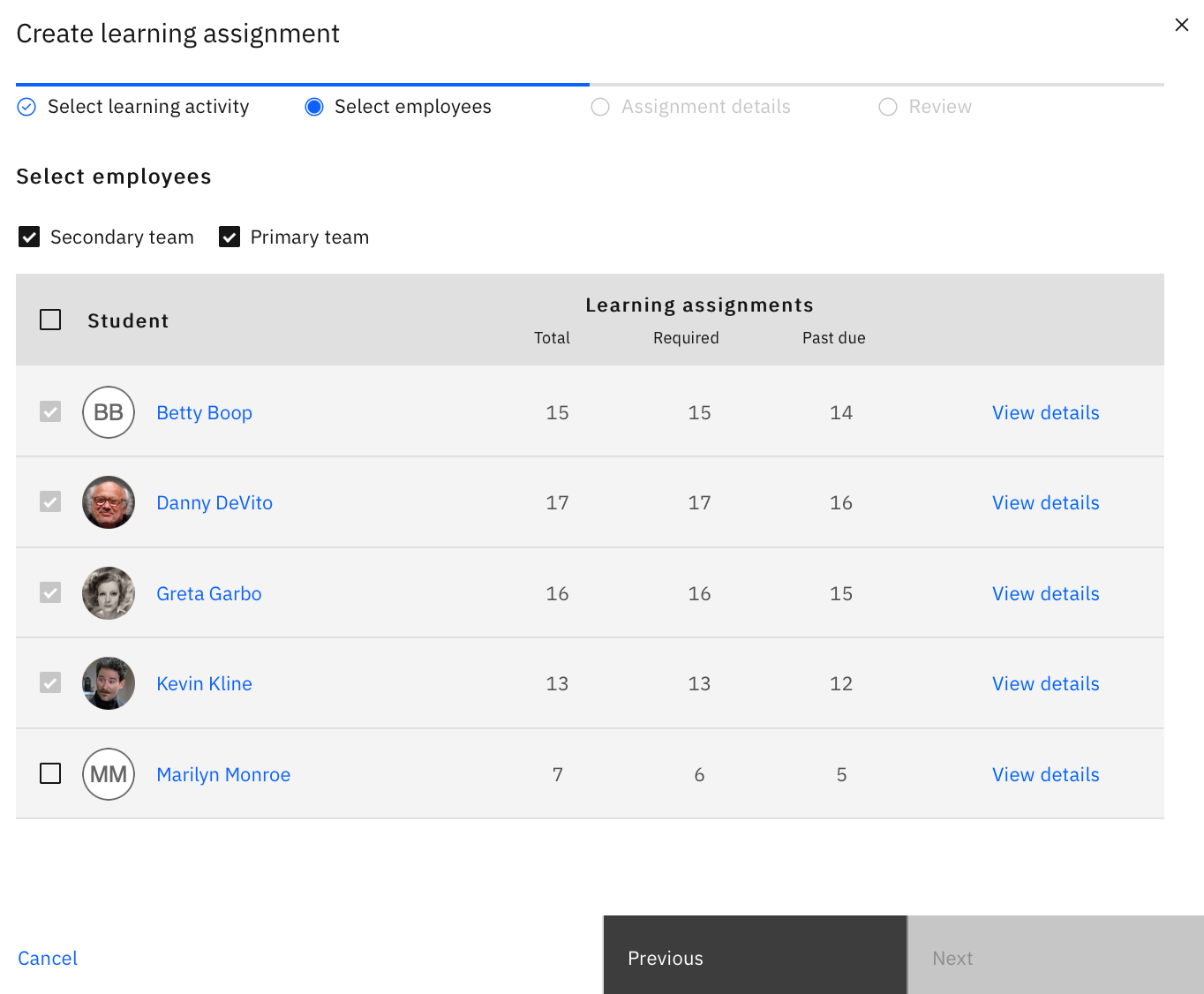 5. Hit "Next," and then select a due date for the assignment, and provide the reason for the assignment and any additional information students will need. Once you hit Submit, you're done!
The learning assignment will now show up for students in their learning assignment tab, and they'll receive a notification. Additionally, you can now view the Learning Assignment for each students within your team reports. (For more information on this, check out the "How to Track Progress" page here in the Teacher Toolkit.)

Assign a learning plan you have built
You can also assign a learning plan that you've built to students. You can find the step-by-step directions to do this here:
How to Remove Required Learning
If you decide you need to remove any required learning from students at any time, you can do so in a couple different places. One way is to go to the "For educators" tab at the top of the main page and then down to "Learning Assignments."
This will show you all the learning you have assigned to your students. To make changes to a due date or remove any learning assignments, click on the 3 dots to the right on any of the activities and a drop down menu with these options will show up.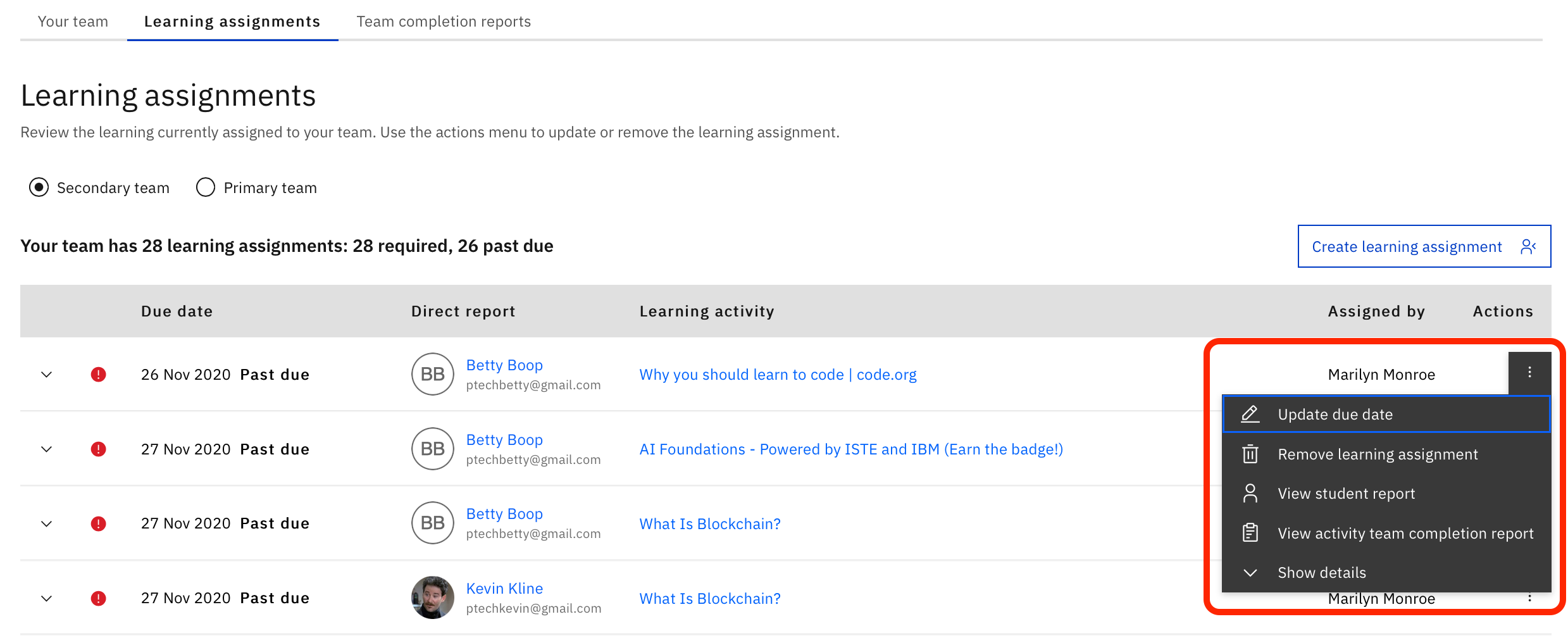 Another way to remove required learning is the same way you can use to assign learning. Simply navigate to the specific activity, click "Actions", then down to "Create Learning Assignment."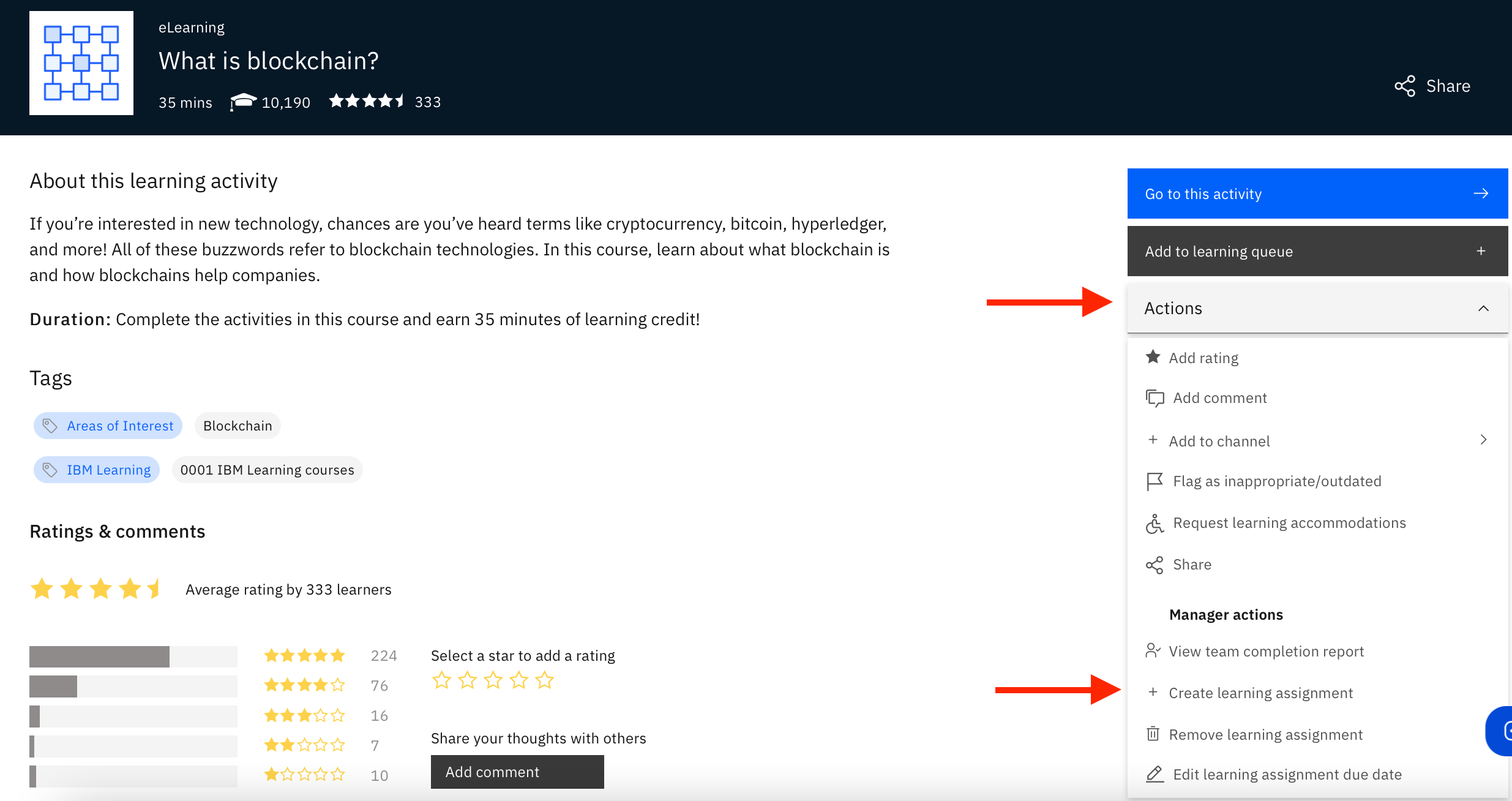 This time when the window pops up with all your students, click on the student(s) you would like to remove a learning assignment from, and then the tab at the top called "Remove learning assignment."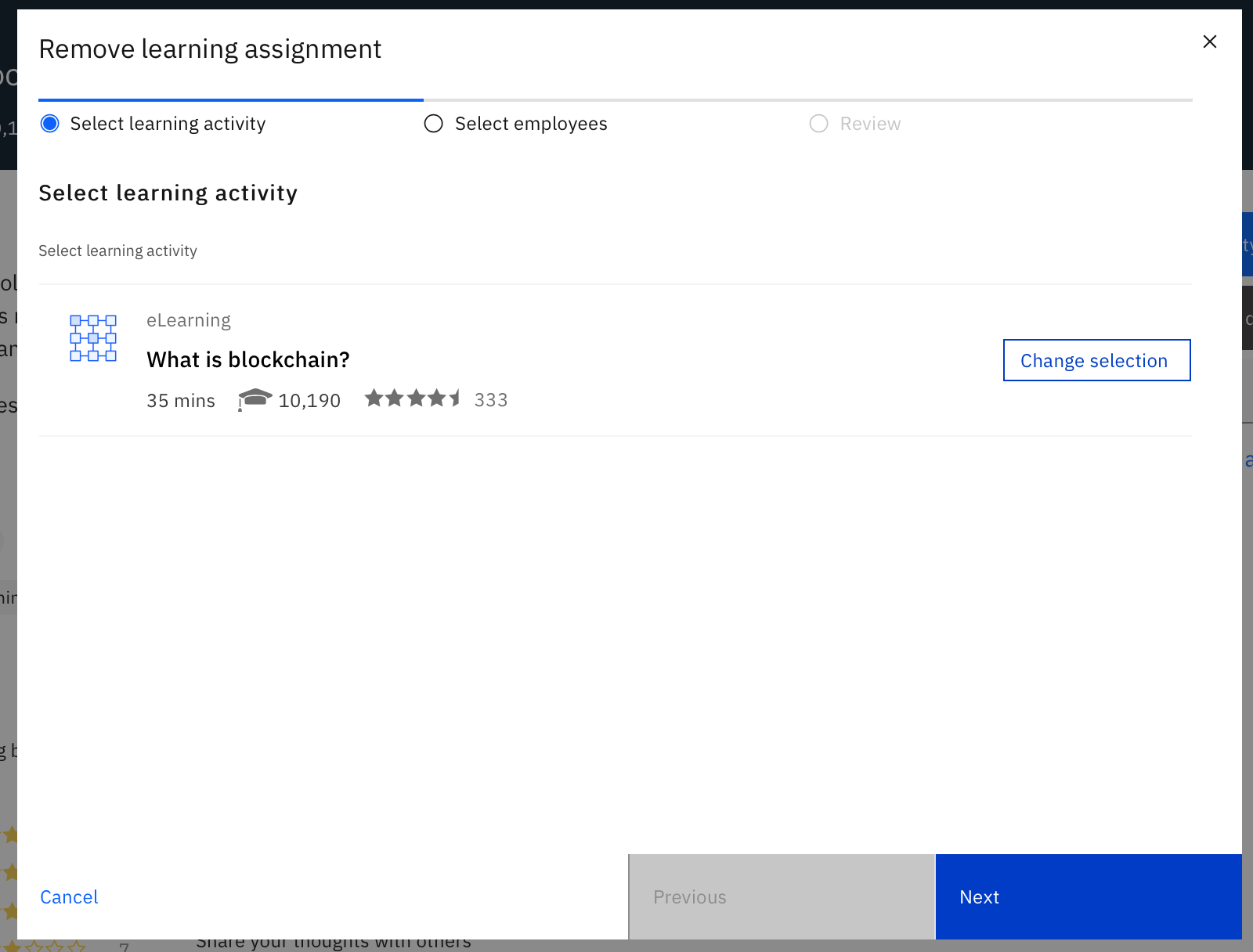 Finally, you can also assign/remove a learning activity by going to "For educators," then down to "Team completion reports." Here you can search for any activity, badge, or channel to adjust learning for each student, as well as see the progress that student has made on that learning item. You also have an option to here to download a report of this information.