Overview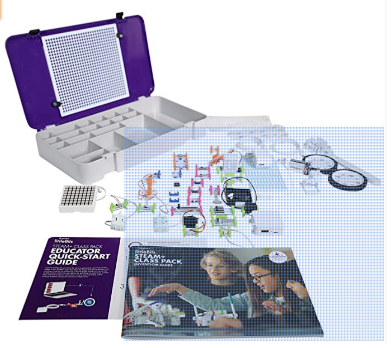 littleBits are electronic building blocks. Students use littleBits to prototype solutions to authentic problems and implement design solutions. Activities engage students in creative design exploration that integrates science, technology, engineering, art, and mathematics (STEAM) concepts and skills.  [The STEAM + Coding Kit also provides additional programming capabilities to Bits (covered in a separate lesson)].
Course/SkillsBuild for Student Module: SkillsBuild Lab littleBits Intro Learning Plan
Topics: Coding
Length of class: time varies depending on activities chosen
Outcomes: What learners will be able to know, do, or value by the end of the lesson.
Students will be able to identify Bits and their function.
Students will create circuits using Bits
Students will analyze circuit options.
Workplace learning skills:
Collaboration
Analytical thinking
Agility and cognitive flexibility
Opportunities for IBM volunteer engagement
IBM Volunteers can assist students in more advanced activities and can share with students how knowledge of electronics is important in a variety of IBM careers.
Required Learning Materials/ Resources
littleBits STEAM+ Coding Kit
Laptop or mobile device
(Optional) Materials for invention projects
*Suggestion:  Since the littleBits STEAM+ Coding Kit comes with only 1 9V battery, it would be advisable to have extra batteries on hand if students are engaged with multiple littleBits projects.
Learning Environment Needs
Table space for the computer and workspace for the kit components and Invention Guide.
Part 1: Activity
Students should work in pairs for most activities.
First, all students should be directed to create a littleBits account in littleBits Classroom.
Student pairs should then be provided a STEAM+ Coding kit.
Show the littleBits Basics video (2:13 min)
Identification and function of each Bit should be explored, using the Invention Guide pages and Bitopedia (in littleBits Classroom) as references.
Next students should be directed to complete the introductory exploration shown on pp. 4-5 of the Invention Guide.
Part 2: Activity 2+
Additional activities from the Invention Guide and Resources on the littleBits Classroom site can be performed, based on time availability.
Please note that some activities may require supplementary materials not included in the Kit.
Part 3: Career Focus
Check for prior knowledge. Ask students questions like "What kinds of careers could involve electronics?" Have students read Different Kinds of Electronics Jobs.
(Optional) Students could also individually or in groups pick a career related to this area to further research. Ask them to complete this Career Research Graphic Organizer. If time allows, students can present their findings to the class. (optional)
Additional Resources/ Deeper Learning
Assessment/ Evaluation
Based on application, how I will I know learners have met intended outcome?
— KWHLAQ worksheet
—  Career Graphic Organizer
— Teacher may wish to create a rubric activities.  
Summary/ conclusion
How will I bring lesson to an effective closing?
— Check for understanding and answer any subsequent questions
— Emphasize key information
— Ask the question "What information did you learn that you think you will find important 3 years from now?"
— Remind students that there are more relevant courses on SkillsBuild for Students to continue their learning
Feedback
We want to hear from you! After completing this lab, please take a moment to fill out this short form. The information collected will provide helpful insights on how the Labs kits and activities are being utilized.