Open P-TECH for
Teachers & Faculty
Now more than ever, students need tools and guidance that can help them prepare for the rapidly changing world of work. Unlock your student's future potential with Open P-TECH. 
---
Why Join
Why use Open P-TECH with your students? 
Open P-TECH helps you lead students to build excitement around new technologies such as blockchain, AI, cloud, and even quantum computing. Open P-TECH also helps students develop crucial professional skills that are relevant across industries. Students access tailored, engaging, self-paced learning that educators can extend through free teacher resources that launch great projects, hands-on activities, discussions and more. Open P-TECH even provides an educator dashboard that allows you to track student progress and create your own assigned learning to customize each student's learning experience.
---

Tip: With a Teacher Admin account matched to an organization, you can track your students' learning progress by individual student, or see your whole class' progress on a specific course.
Free resource, just for teachers
Check out the new Career-Readiness Toolkit for Teachers, designed for teachers with teachers and IBM experts. Get three free lesson plans focused on career-readiness, plus shorter activities you can do with your students any time!
Step One: Sign Up
How to sign-up for Open-TECH 
Sign-up for Open P-TECH as a teacher today, and get administrative access for your school and classroom! Be sure to select "Teacher" when creating your account and follow the prompts on confirmation page to request an organizational account.
---

Tip: Be sure to select "Teacher" when creating your account and follow the prompts on confirmation page to request an organizational account.
---
Step Two: Register your school
Why register my school with Open P-TECH?
Any student or teacher can access Open P-TECH's self-paced learning for free. However, we believe that teachers are key to ensuring students get the most out of Open P-TECH's career-focused learning experience. Signing up your school with an organizational account allows you and any teacher/administrator at your school to see your students' learning progress, including % of courses completed, number of badges earned, and number of learning hours completed. As an individual educator, you can also create your own learning activities and assign them to your students.
---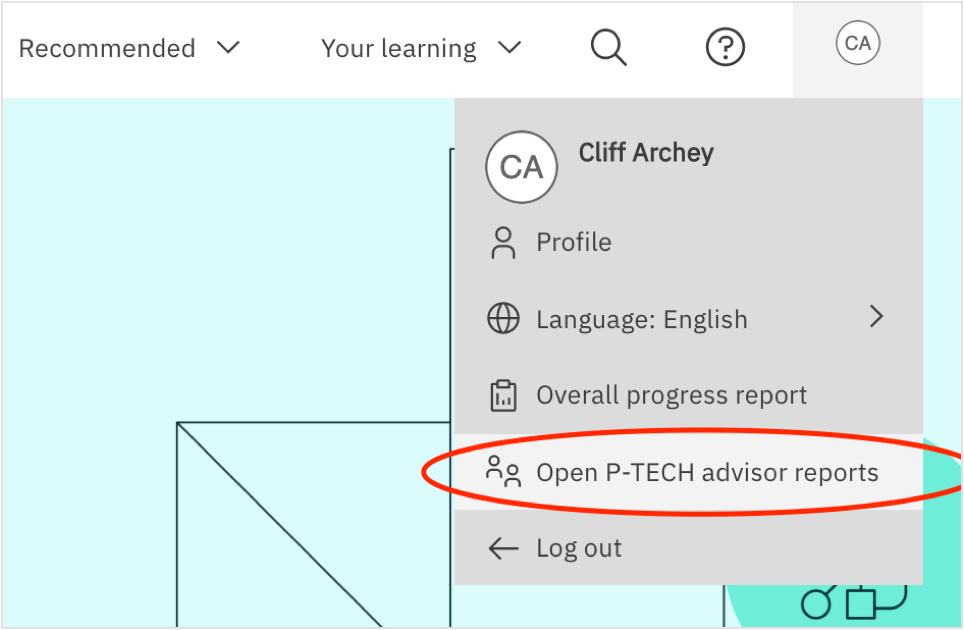 Tip: Access the Open P-TECH Advisor Reports by hovering over your initials once you log-in with a teacher admin account. Fill out the org request form at the link above to get set up.
---
---
How can I use Open P-TECH with my students?
We get it: you're busy! You hear about new classroom tools all the time. And that's especially true in an era of remote learning. But Open P-TECH gives you an industry-validated learning platform you can use out-of-the-box to help prepare students for cutting-edge careers. Try these suggestions to make the most of it:
College and career-ready teachers
Collaboration. Critical thinking. Task management. These are essential skills your students need for success in any career or in higher education. Leverage Open P-TECH by assigning your students the learning modules in the "Professional Skills Channel." It will help them build the five most prominent skills that employers emphasize, while giving them the opportunity to earn an IBM digital badge.
You can even review the "Workplace Learning Extensions" for activities to practice collaboratively with students during structured class sessions.
Computer science teachers
Trying to make real-world connections to the computer science you teach in class? Open P-TECH makes these connections for you as they're applied in a wide-variety of industries.
Teach a unit on data collection without a good way to connect it to real careers? Finishing an intermediate unit on algorithms but looking for a way to help your students understand machine learning? Teaching network configuration and curious how blockchain might change its future? Open P-TECH supplements your curriculum and helps your students build baseline professional credentials at the same time!
Workplace learning/CTE teachers
Use Open P-TECH to deliver a wealth of industry-backed content that helps expose your students to new career ideas.
Want to build excitement around career opportunities in engineering and design? Ask your students to explore "career vignettes" about real workers on the job, after which they can conduct follow-up research for a class presentation. Or invite students to choose one of Open P-TECH's growing number of emerging technology courses that lead to a digital badge, then ask them to analyze what they learned through a small group presentation.  
Be creative! Open P-TECH's mix of free student-facing technology modules and teacher-facing resources can enhance your classroom impact.