Overview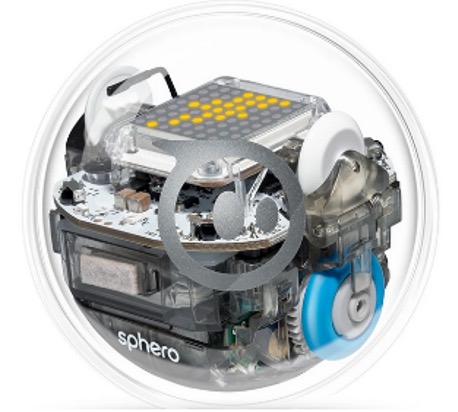 Sphero BOLT is a programmable robot ball that you can drive and code, providing endless opportunities for students to be creative and have fun while developing fundamental STEM skills. When used in a STEM curriculum, this educational robotics kit lets students learn programming skills, complete hands-on activities, and share their creations with the classroom. BOLT's programmable sensors include a compass, light sensor, gyroscope, accelerometer, motor encoders, and infrared communications, along with an eye-catching 8×8 LED matrix that can animate and display real-time data.
Course/SkillsBuild for Student Module: SkillsBuild Lab Sphero Learning Plan
Topic: Coding, Programming, and Robotics
Length of class: Since the time for each activity varies, allowing for multiple class periods would provide sufficient time for pre-learning, programming, and operating the robot.
Robots are charged within the power pack and take 6 hours to be fully charged from a depleted state.
Learning Outcomes: What learners will be able to know, do, or value by the end of the lesson.
Students will apply coding principles to program the robot
Students will be able to execute the appropriate robot control procedures to accomplish a specific goal.
Students will be able to identify and explore careers that utilize robots, or the skills required to program and operate them.
Workplace learning skills:
Analytical thinking
Agility & cognitive flexibility
Required Learning Materials/ Resources
Sphero Bolt Robot
Power Pack and power cord for charging the robots
Downloadable app for programming and running the robot
Materials specific to the individual activity undertaken
Mobile App Capabilities:
Learning Environment Needs
The Sphero robot is generally operated on a floor space but is also functional on a variety of surfaces.  The space required will be dependent upon the activity selected.  
Part 1: Intro to Sphero (45 mins)
Check for prior knowledge of coding and robotics with the KWHLAQ worksheet.
Review "How to Disassemble Your BOLT Power Pack (unboxing the kit") to get started with students. Use BOLT Features as a guide to show students the different part and features of the Sphero.
Next review "Charging and Setting Up BOLT." The Sphero app must be downloaded to student devices prior to beginning any activity.  Allow approximately 30 minutes for downloading and gaining familiarity with the app.
Part 2: Activity (time varies)
Start the activity by playing the video What is Programming and check for understanding with a few questions from it.  (2 min)  and watch Why you should learn to code video.
The best way is to jump right in and learn by experimentation and play!
First, we recommend choosing a canvas to learn. The app interface in which you will control the Sphero is called a canvas– and to support a wide range of skills and abilities, we've developed three canvases: Draw, Block, and Text. All three canvases are available in the Sphero Edu app.
First begin by connecting your robot to the Sphero Edu app on your device. You can find more information about device compatibility here.
Open the Sphero Edu app and ensure that Bluetooth is enabled.
Tap the "Connect Robot" icon at the top right of your screen.
Select your robot type.
Hold your robot next to the device and select it to connect. If you are using multiple robots, look for the robot with the strongest Bluetooth signal.
Now that the Sphero robot is connected to Sphero Edu, practice aiming. All Sphero robots need to be "aimed" and oriented relative to your position, so that forward for the robot and you are the same direction. 
Place the robot on the floor or a flat surface.
In the Sphero Edu app, select "Drive".
Tap the "Aim" button.
Drag the aim ring until your robot's blue "tail light" is pointing directly at you.
The Sphero robot should now be aimed and connected to the Sphero Edu app. From the drive screen, you can drive your robot. 
Drag the blue circle inside the gray circle to drive your robot and control its direction. 
The blue circle on the vertical line controls the speed. 
Change your Sphero robot's color by dragging the white circle around the color wheel. 
Practice aiming and driving your robot by moving it from one side of the room to the other and back again
Now that students have the skills to connect, aim, and drive your robot, it's time to get coding! The Sphero Edu app contains 100+ STEAM and Computer science lessons, activities, and programs, consisting of varying skill level and content areas. We recommend starting off with the activities below that will help guide you as you get started.
Part 3: Extension Activities
The instructor can select additional introductory activities from any of the resources provided below, in the prework section, or students can choose an activity directly from the app.
Kids Coding the Curriculum – Sphero
Interested in using Sphero with littleBits (electronic building blocks)? Also available as part of STEM Labs are lesson plans that involve both Sphero and littleBits together:
Part 3: Career Focus (30 mins)
Additional Resources/ Deeper Learning
Assessment/ evaluation
Based on application, how I will I know learners have met intended outcome?
— KWHLAQ worksheet
— Teacher may wish to create a rubric for Sphero activities
—Career Research Graphic Organizer
Summary/ conclusion
How will I bring lesson to an effective closing?
— Check for understanding and answer any subsequent questions
— Emphasize key information
— Ask the question "What information did you learn that you think you will find important 3 years from now?"
— Remind students that there are more relevant courses on SkillsBuild for Students to continue their learning
Feedback
We want to hear from you! After completing this lab, please take a moment to fill out this short form. The information collected will provide helpful insights on how the Labs kits and activities are being utilized.