Overview
* This is a no equipment lab and perfect for volunteer use. Find the abridged lesson plan HERE.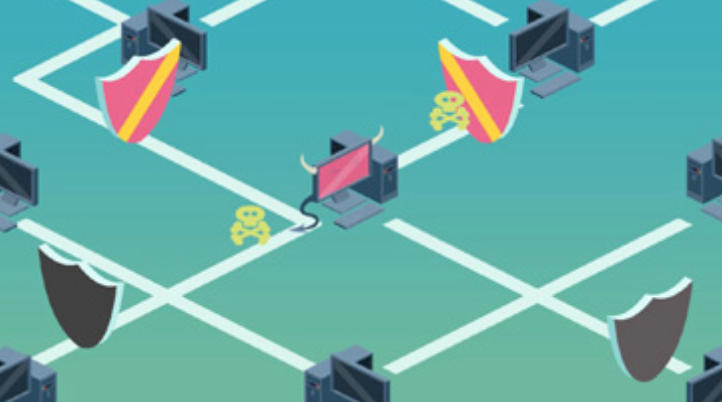 In this online lab activity, students will defend a company that is the target of increasingly sophisticated cyber-attacks. Their task will be to strengthen their cyber defenses and thwart the attackers by completing a series of cybersecurity challenges. They will crack passwords, craft code, and defeat malicious hackers.
Length of class: 2 hours 25 mins (more time will be needed to complete optional and extension activities)
Learning Outcomes: What learners will be able to know, do, or value by the end of the lesson.
Students will be able to explain what cybersecurity is, its goals, and its importance in today's society.
Students will develop an understanding of cyber threats and defenses.
Students will be able to apply computer coding, logical reasoning, critical thinking, and vulnerability detection to solve various problems.
Students will explore careers in the cybersecurity field.
Workplace learning skills:
Analytical thinking
Agility & cognitive flexibility
Required Learning Materials/Resources
Laptops or mobile devices to access website
Learning Environment Needs
No special space requirements are needed.  Wherever laptops or mobile devices can be accessed is all that is required. The Cybersecurity Lab is accessible on web and mobile browsers that support HTML5, including Chrome, Firefox, Safari, and Internet Explorer (version 9.0 and higher).
Prework for Educators
Instructors should review and become familiar with these materials prior to teaching:
–Cybersecurity Lab activity website
Recommended Prework for Students
Part 1: Intro to Cybersecurity (30 mins)
Before beginning, check for prior knowledge. Have students complete the KWHLAQ worksheet on cybersecurity. Ask questions like "What is cybersecurity, what are some ways we can protect our information, what are some areas of our lives that would be vulnerable to attacks?"
Show the video "Cybersecurity 101" (4 mins) After watching the video you could also conduct a class discussion using the PPT from the Cybersecurity Teacher Resource Section. This can be found at ibm.org. There are activities and questions imbedded in the PPT to use as an introduction.
Next have students take the "Let's Talk Safe Tech Cybersecurity Quiz".
Check for knowledge:  Have students use the KWHLAQ worksheet. Ask some questions from the PPT to activate knowledge.
Part 2: Cybersecurity Lab Activity (45 mins)
Prior to students logging on to the game, instruct them to create a list of tips that they would follow to avoid online scams and to create strong passwords.
Students can then on to the Cybersecurity Lab Game and complete all the Level 1 challenges in the game.
Reconvene as a group and discuss with students some of the best practices that they learned and whether they encountered any information that supported or contradicted the tips they listed out before the game.
After discussion, students should complete the video quizzes. Teachers can also use this opportunity to assess student learning with short response discussion questions.
Part 3: Cybersecurity Careers (60 mins)
Check for prior knowledge. Ask students questions like "What kinds of careers use cybersecurity, why is this an important career field?"
Play the video: An Introduction to Cybersecurity Careers (6:41)
Students can also complete the Careers in Cybersecurity learning module on SkillsBuild for Students. Be sure to read the article at the bottom, How to Land a Career in Cybersecurity. Students can also read more about careers in the expert profiles section of Nova Labs here: Cybersecurity Expert Profiles.
Optional Cybersecurity Career Activities
Have students individually or in groups pick a career in cybersecurity to research. Students will need access to a computer to search for info on their career. Ask them to complete this Career Research Graphic Organizer. If time allows, students can present their findings to the class.
NOVA science NOW: Luis von Ahn | Computer Scientist: In this video segment adapted from NOVA scienceNOW, meet Luis von Ahn, a computer scientist and a professor at Carnegie Mellon who is already at the top of his field at age thirty. Learn about one of his most successful ideas—CAPTCHA—a test that humans can pass but computers cannot, which has been used to improve the security of Internet sites. Explore how he comes up with his innovative ideas, and how CAPTCHAs have been reinvented to help digitize old books.
Extension Activities
Cybersecurity Ops Terminal: A Cyber Breach Video Game Experience: 1 hour; In a cyber situation, you must quickly figure out what's happening and know what to do next. You have to consider health and safety, manage information and communication, and handle a flood of issues from data analysis to legal requirements. A full business response is required from many different teams. Practicing in a game-like environment helps make those connections. 
Try the IBM Cybersecurity Ops: Terminal video game! It is designed to: 
Provide a facsimile of the Command Center experience
Raise awareness about cybersecurity threats
Familiarize you with what it takes to fight them
The goal is to immerse you in a scenario and ramp up the pressure as a simulated attack unfolds. You will play different roles and the decisions you make are critical. Do you take that call from the reporter? What should you tell her is happening? Critical systems are compromised. Do you shut down? Remove from the network? What if it is critical to health and safety? Choose carefully and in the right amount of time. The clock is ticking. 
You will find the lessons are clear and you should find it exciting and fun to "learn by doing" in these simulated, gamified scenarios. This game is not intended to act as training for a real event. 
Can a Computer Play Jeopardy video (10 mins): Teachers or volunteers lead a discussion about how IBM data scientists taught Watson AI to analyze and understand a huge database of graphics and documents, then successfully play the quiz show Jeopardy!. 
Learning goal: Help students understand important capabilities of artificial intelligence and how these capabilities compare with the human brain. 
5 Tips for Cybersecurity Safety video (5:45): Listen as Mayim Bialik (from The Big Bang Theory) tells young people how to stay safe online.
Code.org Hour of Code (30 mins): Learn the basic concepts of computer science with drag-and-drop programming. This is a game-like, self-directed tutorial featuring video lectures by Bill Gates, Mark Zuckerberg, Angry Birds, and Plants vs. Zombies. The Hour of Code is a continuation of the skills and problem-solving strategies that students encounter in the Coding Challenge, where they learn repeat-loops, conditionals, and basic algorithms.
Cybersecurity IBM Activity Kit (3 hours): Teachers or volunteers lead an exploration of cybersecurity with celebrity Mayim Bialik and IBM security experts! Take a cybersecurity quiz learn the top 5 cybersecurity tips to be safe online. This Activity Kit introduces students to core cybersecurity concepts and reinforces their learning through a Design Thinking and classroom debate exercise. You'll help students understand how to protect their data, how to take control of what they share online and learn more about careers in cybersecurity.
Additional Resources/ Deeper Learning
Cybersecurity Fundamentals (Course and Badge): (6 hours) This course will provide you with an introduction to cybersecurity. From the offense perspective, you will learn about cyber attackers, their tactics, social engineering, and high-profile case studies. From the defense perspective, you will learn about common approaches organizations take to prevent, detect, and respond to cyber attacks. You will also learn about career opportunities in this exciting, growing field. Complete this course to earn the Cybersecurity Fundamentals badge!
Assessment/evaluation
Based on application, how I will I know learners have met intended outcome?
— KWHLAQ worksheet
— Teacher may wish to create rubric to use to score career presentations worksheet and optional drone recital
Summary/ conclusion
How will I bring lesson to an effective closing?
Check for understanding and answer any subsequent questions
Emphasize key information
Ask the question "What information did you learn that you think you will find important 3 years from now?"
Remind students that there are more relevant courses on SkillsBuild for Students to continue their learning
Feedback
We want to hear from you! After completing this lab, please take a moment to fill out this short form. The information collected will provide helpful insights on how the Labs kits and activities are being utilized.