Show off your dedication to the SkillsBuild for Students platform and its mission with a Community Champion Badge!
The Badges
Show off your dedication to the SkillsBuild for Students platform and its mission with the Community Champion Badges! The Community Champions suite of badges are digital credentials for educators that demonstrate their dedication to students and platform engagement.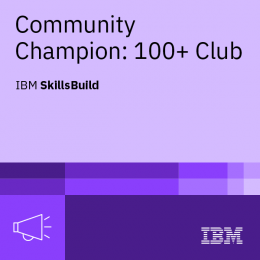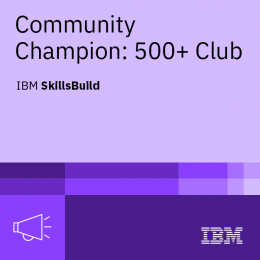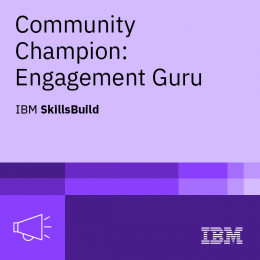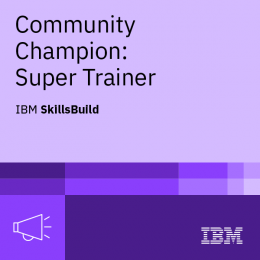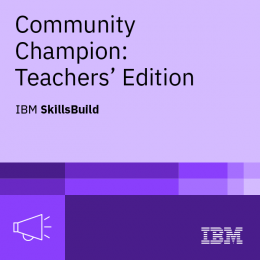 Community Champion FAQs
The Community Champions badge suite is an opportunity for you to be recognized for your investment in the community of SkillsBuild for Students. You've demonstrated your dedication to the platform and its mission by encouraging registration and/or activity on the site and its affiliated assets. You're also poised to become an ongoing contributor to SkillsBuild Connect, our social networking site.
2. 
Completing the learning plans are super easy! Just click here and start. All of the badges are included in this channel and should be completed in the following order: 100/500 Club, Teachers' Edition, Engagement Guru, and Super Trainer. 
3. Why do I want to earn this badge, anyway?
First, for the sheer awesomeness of being a CHAMPION!! Need more? Okay. By becoming a member of this elite club, you get to be the first to tell us what we're doing right (and what we can improve) and what you want to see on SkillsBuild for Students. You've got the ears of the people who can make those changes for you. Our platform is designed to serve your technology learning needs. Now, you can help us do exactly that!
4.
After you earn them, you get a super cool shiny digital badge to show off to everyone you know. You can add it to your Linked In profile, you can tweet it out to show all your followers, or just bask in the knowledge that YOU are paving the way for other learners to get all they can out of SkillsBuild for Students. Plus, you'll get a neat gold nameplate next to your avatar on the platform. Winning!