About learning
Suggested audience
Teachers
Course duration
14 hours
Supported languages:
English
IBM AI Education is an online professional learning suite of highly engaging and free on-demand webinars, crafted by and for educators. The nine webinars guide educators through AI's foundational concepts and K-12 classroom connections, with topics including introduction to AI, natural language processing, ethics, robotics, and more. Earn a certificate of hours for each webinar and the IBM AI Foundations for Educators digital badge upon completion of all nine.
Register for an Open P-TECH educator account to access the nine on-demand webinars, earn your badge and find more great resources to use with your students!
---
Details
Artificial Intelligence (AI) is all around us, from self-driving cars, digital assistants, rideshare apps, banking applications, and so much more. Experts say AI will change 100% of jobs over the next 10 years, but there is a fear that the next generation isn't prepared for the shift to AI. It's imperative for teachers to learn how to infuse their content and curriculum with the knowledge, skills, and values driving innovation in AI today so that their students are prepared to be successful in the modern workforce, regardless of their career paths.
---
Partners


Digital Badge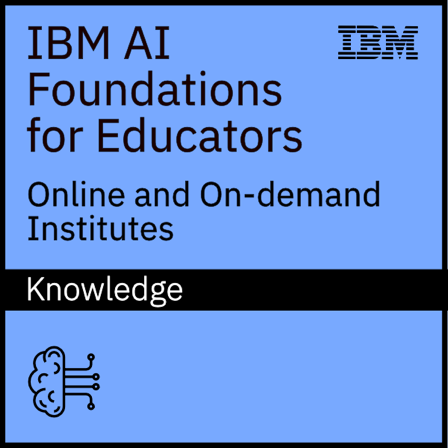 IBM AI Foundations for Educators
Badge recipients will have an understanding of AI applications such as machine learning and natural language processing, along with how it is used to solve problems, collect data and identify bias. They will also have become equipped to share the foundational knowledge of artificial intelligence with their colleagues and students in their classrooms.
Course content
Module 1
Creating a Spark for Artificial Intelligence
1h 30min
---
Module 2
AI Here, AI There: AI Who, What, Where
1h 30min
---
Module 3
Ethics in AI: Can You Crack the Moral Code
1h 30min
---
Module 4
AI Can and Should be Inclusive: Design Thinking Can Help!
1h 30min
---
Module 5
How Do Siri, Alexa and Watson Understand Me?
1h 30min
---
Module 6
Machines Can Learn, But They Need Our Help!
1h 30min
---
Module 7
Amplifying Human Potential
1h 30min
---
Module 8
AI and your Curriculum: The Perfect Marriage
1h 30min
---
Module 9
Building a Culture of Inclusivity
1h 30min
---
Assessment
Badge Quiz: IBM AI Education Online and On-Demand Webinars
30min