Online course offerings
Suggested audience
14 – 20 +
Course duration
15 hours
Supported languages:
English, Portuguese

Coming soon!

, Spanish

Coming soon!

, French

Coming soon!
Today's students need exposure to AI knowledge, skills, and values in order to be ready to seize those opportunities. AI Foundations is an online course from ISTE and IBM that provides high school students with a comprehensive introduction to Artificial Intelligence. It can be used independently by students or in a blended-learning environment, and is beginner-friendly for students and teachers alike. Create an account to start learning!
---
Ways to use the course
On your own as a student
Enroll through Open P-TECH to enjoy an engaging, self-paced digital learning experience that will teach you the foundational concepts behind AI systems.
---
As a teacher facilitating a class
Use the ISTE/IBM AI Foundations facilitator guide to provide your students with a deeper, more collaborative learning experience that compliments the self-paced course. Ideal for remote or in-person classroom learning alike!
---
Partners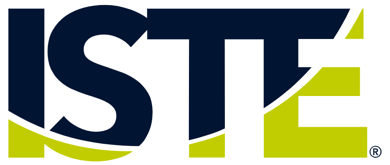 ---
Through this course,
students will:
Learn the basics of AI
Such as the history of AI, machine learning algorithms, recommender systems, neural networks, and much more
Use design
thinking
Use the Design Thinking framework to apply AI to a real-world problem through an AI Design Challenge
Earn a digital
badge
Earn the AI Foundations digital badge from IBM and ISTE upon passing the final assessment with a score of 80% or higher
Discover career
pathways
Explore different careers that use or create AI, and learn from diverse voices in the field working on and with AI.
Consider AI
ethics
Get informed about how AI is both an exciting technology and one that deserves careful consideration to ensure it is applied ethically.
Discover AI
applications
How is AI applied in real-world applications? Learn and practice with exciting new tools.
Digital Badge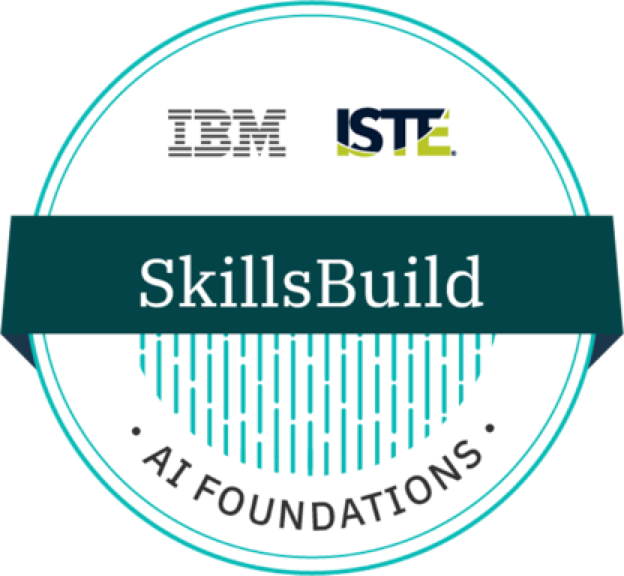 AI Foundations Badge
This badge earner has the key knowledge, skills, and values necessary to understand and work with artificial intelligence (AI), and is aware of the implications of AI for the future of work and society in general. Earners have applied their knowledge through an AI Design Challenge, using design thinking to create a prototype for an AI-powered solution that helps people improve their skills.
Course content
Module 1
What is AI?
2h 15min
---
---
Module 3
Machine Learning and AI
3h
---
Module 4
AI Applications
3h
---
Module 5
Bringing It All Together
2h 15min
---
Assessment
AI Foundations: Final Assessment
30min