The P-TECH Industry Coalition is an alliance of businesses across the United States committed to creating a more inclusive economy by providing underserved youth with educational opportunity, workplace training and new career possibilities.
Our Goal
Over the next 10 years, the P-TECH Industry Coalition aims to partner with state and municipal governments to increase the number of P-TECH schools in the United States.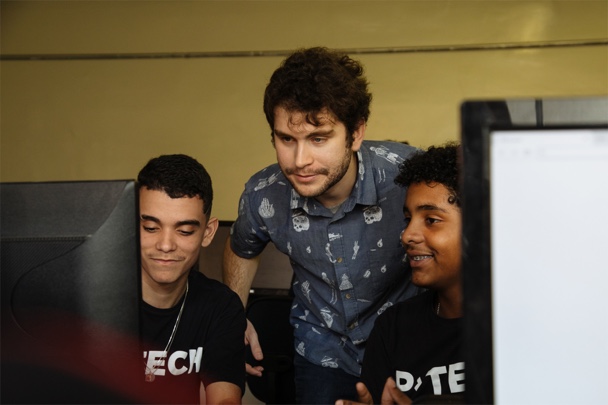 ---
P-TECH Industry Coalition Membership
The P-TECH public-private partnership was designed to strengthen education and access to jobs.
Over the past nine years, the P-TECH program has served as an effective model for how companies can contribute to the development of their local communities by advancing education and skills, improving diversity in talent pools and providing vital workplace experiences for the next generation of workers.

P-TECH is in 11 U.S. states with more than 300 companies taking part across the country.
Key to this model is the industry partner, which provides access to valuable work experiences, mentoring and professional development for students.

The P-TECH Industry Coalition will invest in talent and economic growth in the communities they work in by partnering with local P-TECH schools, providing workplace learning, fostering skills in students and tapping into P-TECH graduates as a strategic source of apprenticeship and early professional hiring.
The Industry Partners are leading employers in their communities and offer valuable insights into the skills and qualities they seek in prospective employees. They make a commitment to foster in-demand skills in their P-TECH students.
---
P-TECH Industry Coalition Membership
To join the P-TECH Industry Coalition, the employer must commit to adding P-TECH as a strategic source of talent acquisition for the company. The commitment requires:
---
Commitment to building skills
Partnering with a local P-TECH school(s) by providing mentoring, workplace experiences and paid internships to help develop and build skills in P-TECH students
---
Hiring into apprenticeships
Partnering with a P-TECH school(s) to hire eligible graduates into apprenticeship or early professional positions
---
Providing a contact
Providing a contact to engage with the coalition and the school to continually collaborate to advance the mission and execute the commitment
Current P-TECH industry partners are invited to benefit from an enhanced collaboration with other coalition members who share their dedication and focus on their community by joining the Coalition.
Contact us
---
Coalition Support
The P-TECH Industry Coalition will support school partner members with:
Templates, best practices and training where required to members' staff to engage with their local schools
Connection with school districts to match employers and P-TECH schools
Support in creating federal apprenticeship programs for interested companies
Support with graduate-job matching services
Skills bootcamps for small and medium size companies to prepare graduates with specific skills development for available jobs
Collaborative advocacy to create education pathways in the district for skills needs of local employers