Preparing Students at Excelsior Academy for Careers
Preparing students at Excelsior Academy, industry and education are uniting forces to make sure a group of 14-year-olds will be competitive for dynamic IT careers. Eric Waliszewski is Excelsior's math and Workplace Learning teacher, and has a key role in managing the overall Workplace Learning strand.
Former high school teacher Cliff Archey is the IBM industry liaison to Excelsior and is responsible for implementing IBM's commitments to the school, including the workplace learning curricula, mentoring, worksite visits, speakers, project days, and internships. Together, they are helping to ensure that each student in Excelsior's inaugural class of 50 ninth graders will graduate with a high school diploma and an associate degree in Applied Sciences, and be ready to be successful in the workplace.
The following is an excerpted conversation with the two partners.
1. What are your goals for Workplace Learning and how are you working together to fulfill them?
EW: We want to get students excited about the careers that they can fill upon graduation — if they work hard and apply themselves. We know that Workplace Learning has to be a seamless collaboration between the industry liaison and the teachers, staff, and leadership. Cliff needs to be actively involved in the students' education. It's been like having another teacher in the room, but one with insight into the IT industry.
CA: I agree that collaboration is key. Through the coursework, we've begun to intentionally teach students the essential career-ready skills they will need to be successful once they graduate. But it's not just one thing that will prepare our students. We have to combine academic and workplace coursework with mentoring, site visits, speakers, and internships to ensure that our students graduate ready to fill well-paying jobs. I think we've done a good job at this thus far; the students are excited.
2. How are you collaborating to make Workplace Learning at Excelsior successful?
EW: To make Workplace Learning relevant to the students, the comfort level and willingness to work closely with each other is really important. Cliff is helping me determine the best way to bring IBM's expertise to the school, helping the school community understand the skills that employers want and then working collaboratively to build them.
CA: Building on that, I really do think it's a symbiotic relationship. I have teaching experience, which I think helps, but my role is to bring industry knowledge and experience into the school in a way that will better prepare students for college and careers. I absolutely rely on Eric to take the lead in making some of the career-heavy content more accessible to 14-year-olds. I also rely on him to be deliberate about referencing the career skills that come up during content-lessons so that the connections between the work they're doing in class and their future careers are clear.
3. How do you think the Workplace Learning course helps prepare Excelsior students for a career in IT?
CA: It's very difficult to get 14-year-olds to focus on the next class period, much less something so far down the line as a career. But developing that long-term career focus is a huge part of Workplace Learning.
We've structured our curriculum around computer science in order to teach concrete skills they may use in IT, such as coding and programming. But we are also teaching them broader career skills that any individual will need to be proficient — things like verbal communication and project management, which we will assess in part through weekly student self-evaluation.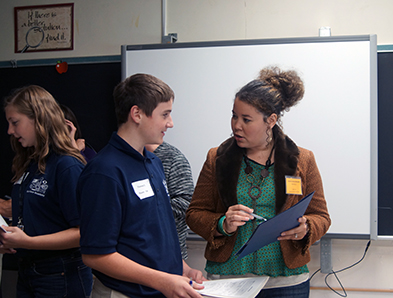 4. What else is important when asking students to think about their careers?
EW: We constantly remind them how important each day is to their future goals. We emphasize setting weekly goals and weekly reflection on those goals to hammer home the point that they are working toward a fulfilling career each and every day. But it can be a slow process. For many, this is the first time they've thought about it.
CA: One of the things I've learned is that students have a better understanding of what their careers might look like if you are explicit in referencing how the work they are used to — math, computer science — prepares them for a tangible job. In both the short- and long-term, we want to immerse students in hands-on experiences. Like building a rocket — which we just did, or job shadowing and internships that will both build their skills and give them insight into the careers that they want to pursue.
5. What are your goals for Workplace Learning and how are you working together to fulfill them?
CA: They definitely will change, and that's exciting to me professionally. Next year, we'll have to craft a new Workplace Learning curriculum that is less theoretical and more experiential. By Year Three, I will focus on securing skills-based paid internships for students that enable them to practice the skills they have learned in the classroom in a real workplace setting.
EW: I've taught for awhile, so to me, one of the most interesting aspects of being the workplace learning teacher is that the role does change more than the role of a normal content teacher might. For example, as students mature in the program, I become more of a coach and mentor because students will mostly be at the college, taking classes, or in internships. However, they will still rely on me to ensure they are practicing and showcasing the career ready skills we've worked-on throughout the program.
6. What is your advice for creating effective Workplace Learning experiences at a P-TECH 9-14 school?
CA: First and foremost, total school buy-in is essential to the success of all aspects of workplace learning. The more that workplace learning is viewed as an essential aspect of the total school experience, the more successful all the workplace elements will be incorporated into the day-to-day learning under way.
EW: And start early. Give the teacher and liaison enough time to truly collaborate and flesh out all the key aspects that will impact success: the particular school context you have to operate within, the degrees students will be obtaining, and the fields they will be pursuing upon graduation. All of that takes time to get right, and the more time you have to build strong working relationships and plan how workplace learning will be woven into the fabric of the school, the better off the program will be.
For more information about the Redesigned High School Experience in the P-TECH 9-14 model, please visit Redesigned High School Experience.
Background
When Robin Golden, Early College Program Advisor with the Connecticut Board of Regents, first met with the other Steering Committee members, she recalls that they were primarily focused on what needed to be done to open the school doors to students.
NECA is a school-within-a-school, a dynamic that School Director Karen Amaker says meant an immediate need to address classroom space and other shared resources. The group also needed to recruit students, which required finding prospective parents and students and sufficiently developing the curricula to explain NECA — all within a short timeframe.
There was never a formal ask. People who were doing the planning were also decision-makers in our own right, and we became the steering committee.
With everything that needed to be done, it was weeks into the process before anyone saw themselves as NECA's strategic leadership body. "There was never a formal ask," Amaker recalls. "People who were doing the planning were also decision-makers in our own right, and we became the steering committee. Because we were making things happen, it made sense to keep working with the small body of folks to keep things moving forward."
While the school welcomed its first class in August 2014, moving forwarding has continued to mean tacking between immediate concerns and strategic decisions required for a successful, sustainable school.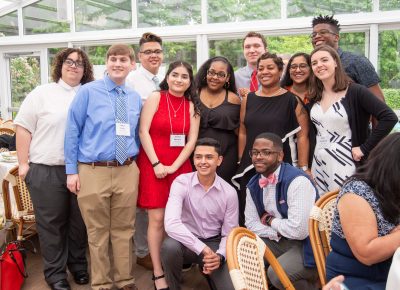 NECA School Director Karen Amaker plays a critical role on the NECA's steering
committee as she sets the vision and goals for her students.
Organizing Steering Committees
For some P-TECH 9-14 schools, creating a steering committee is a deliberate process where members are appointed from the start. For NECA, assembling a steering committee was organic. Only after they had gained some traction did they begin to create more formal processes.
Looking back, committee members agree that it would have been best to develop guidelines and set expectations and working styles from the start. In fact, Amaker advises anyone looking to build a steering committee, "Do this in the reverse." She continues, "Identify the person who runs the meeting, the person who sets the agenda, etc., first." Even so, Golden says assembling the right mix of people is what's most critical. The NECA steering committee's informal beginning helped them develop mutual trust, respect, and understanding of members' roles.
Identify the person who runs the meeting, the person who sets the agenda, etc., first.
This deep trust has given the Steering Committee the ability to successfully define its goals and responsibilities and the flexibility to quickly address gaps as they arise. The steering committee has now defined its chief mission: To ensure that the school graduates students that are college- and career-ready and that the school is sustainable.
This focus has been critical for the first P-TECH model school to launch in Connecticut. According to Golden, "We are paving the way in Connecticut."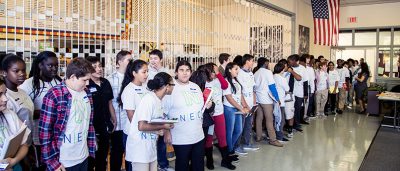 NECA's Process
The NECA Steering Committee has more formally organized its approach to meetings and communication over time. The committee now follows a monthly meeting schedule and has developed a clear process to address issues during meetings.
Golden stresses that improved organization helps ensure that all of the moving pieces stay aligned with one another. This is particularly critical between partners, she says. "It's important to raise all the issues and know how it impacts each partner."
For this reason, every committee member is expected to be involved in important decisions. For example, the Scope and Sequence focuses on content, courses, schedule, and funding, which involves the district, the high school, the college, and IBM, with each piece falling in the domain of a different committee member. Even so, every partner has been involved in developing the Scope and Sequence as a whole, regardless of each partner's individual level of involvement in a particular task. This approach ensures that decisions take into account the expertise and perspectives of each partner organization.
As NECA continues to evolve and mature, the Steering Committee will grow and grapple with new challenges. According to Ralph Valenzisi, Director of Technology for Norwalk Public Schools and a member of the Steering Committee, "We need to be nimble, make adjustments, and execute."
For more information about the shared decision-making in the P-TECH 9-14 model, please visit www.ptech.org.