Overview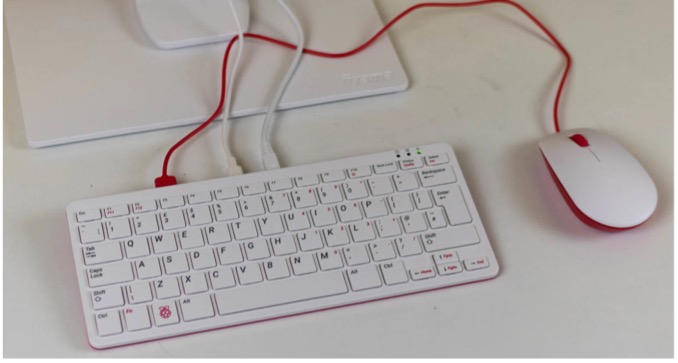 The Raspberry Pi 400 system consists of a keyboard and mouse designed to hook up to a traditional monitor.  It can be run through an ethernet connection or through a wireless connection.  The Raspberry Pi OS is provided through an SD card which inserts into the keyboard.  Using the Raspberry Pi 400 enables users to learn the fundamentals of coding but also offers the benefit of Internet access.
Course/SkillsBuild for Student Module: SkillsBuild Lab Raspberry Pi Learning Plan
Topic: Coding and Data Science
Length of class: time varies depending on activities chosen
Outcomes: What learners will be able to know, do, or value by the end of the lesson.
Students will be able to identify the coding elements unique to Python.
Students will know how to execute the appropriate programming code to accomplish a specific goals.
Students will be able to identify and explore careers that utilize Python programming or the skills involved in software development.
Workplace learning skills:
Agility and cognitive flexibility 
Analytical thinking
Required Learning Materials/Resources
Raspberry Pi 400 (kit)
LCD screen 
Optional add-ons (such as a Pi T-Cobbler) which might be required of selected projects (not included in the kit)
Mobile App capabilities
Learning Environment Needs
The unit takes up the typical desktop space as would a normal keyboard and mouse.
Part 1: Intro to Raspberry Pi 400(30 mins)
Check for prior knowledge of Raspberry Pi and Python  with the KWHLAQ worksheet. Ask questions like "What is Data Science?" "What does Raspberry Pi do?"
Students unbox and set up the Raspberry Pi 400 following the Raspberry Pi 400 – Unboxing and Setup video (8:21 min) 
Introduce Python programming (through the Raspberry Pi 400 (see Guide – Chapter 5) or through the SkillsBuild for Students Python for Data Science course that students can complete as prework).
Part 2: Activity (around 40 mins)
Next complete one or more activities from the "Additional Resources" section of this guide or through the guide in the kit that accommodate time constraints and available materials. (To explore beyond the desktop, purchased components can be connected to prototype projects.)
Part 3: Career Focus (30 mins)
Additional Resources/ Deeper Learning
SkillsBuild Connect
An online community just for you!
SkillsBuild Connect is an online community for SkillsBuild Students and Teachers. Think of it as our version of Facebook, but way better, and way more valuable to you as a teacher. In SkillsBuild Connect, you can join our group just for SkillsBuild STEM Labs (And while you're there, take a peek into our Newcomer's Portal and explore some of the STEM topics we have). Join the SkillsBuild STEM Labs group and tell us how this activity went! We would love to hear feedback, see videos and photos, and any helpful tips and tricks for other teachers using labs.
In this online community you can:
Give feedback on how your lab went.
Share photos, videos, tips, and any additional activities you came up with.
Connect with other teachers who are using SkillsBuild Labs for students.
Assessment / evaluation
Based on application, how I will I know learners have met intended outcome?
— KWHLAQ worksheet
— Teacher may wish to create a rubric for Raspberry Pi activity
Summary / conclusion
How will I bring lesson to an effective closing?
— Check for understanding and answer any subsequent questions
— Emphasize key information
— Ask the question "What information did you learn that you think you will find important 3 years from now?"
— Remind students that there are more relevant courses on SkillsBuild for Students to continue their learning
Feedback
We want to hear from you! After completing this lab, please take a moment to fill out this short form. The information collected will provide helpful insights on how the Labs kits and activities are being utilized.